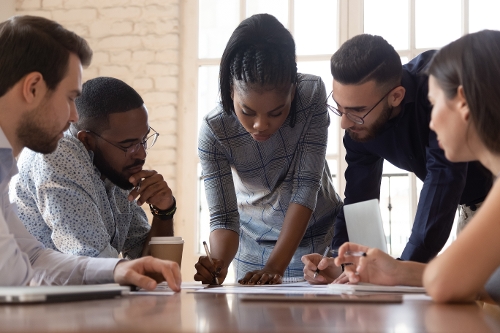 April 13, 2020
By: Lisa Hastings
The current situation has forced everyone to respond to and manage unprecedented changes with lightning speed. Business owners must also move quickly into the "what's next" phase of assessment and action.
Your actions now can make the difference as the crisis resolves, which it eventually will. Think of management as defense, and leadership as offense. Strong leadership in combination with strong management is necessary.
Management takes a narrow view of what to do now. Some of the critical near-term decisions and actions include:
· Focus on the safety and health of customers and employees,
· Offer support to employees in terms of working remotely if possible,
· Offer emotional support whenever you can, too,
· Assess your IT infrastructure for security and stability,
· Reach out to customers. Ask what they need and how you can help,
· Assess cash flow – prepare weekly and monthly forecasts for the next few months, and update them regularly as the situation unfolds,
· Prepare for a decrease in sales.
· Receivables may well become harder to collect.
· How will you manage inventory? Will it accumulate or will you have shortages in supply?
· How will you manage production? Can you ramp up or down on short notice? If not, prepare for the worst case scenario.
· Do you have adequate access to financing, like a line of credit? Consider drawing on it before you think you need it, so that you don't lose precious time waiting when it becomes critical.
It's not uncommon for businesses not to have the ability or capacity to do this kind of in-depth analysis on their own. We work closely with clients on these forecasts.
· Review the recent and broad changes in regulations and legislation. These have been extensive and include provisions for required paid sick leave, expanded unemployment benefits, tax incentives, loans and grants.
We are keeping on top of these as they evolve, so we can help you navigate how they apply to your business, and how to tap into them.
Leadership takes the wider view of what comes next. To the extent possible, retain personnel to manage the short-term actions mentioned above. Leaders will need to focus their energy on the future health and success of the business, looking and preparing for future challenges and opportunities, and maximizing them as they evolve, such as:
· Imagine what your markets will look like when the crisis passes.
· Who will your customers be, and will they be different than before?
· What products and services will they need, and will they be different?
· What customers, products and services may no longer be available or needed? Can you replace them in a way that makes your business stronger?
· Is this an opportunity to revamp or innovate your business model?
· Consider lower-performing segments and whether they serve your business enough to continue them into the future..
· Are there opportunities to innovate your technology or processes?
· What new products or services will be in demand in a recovering and future economy?
· Envision a different talent market, and how you can make the most of on it.
· Will you be better able to recruit talent in a softer employment market?
· If your cash flow will allow it, consider adding good talent even before the recovery is underway. They will provide capacity for some of the changes and innovation mentioned above.
· Protect your best talent and direct them to projects that challenge them. Provide opportunities for them to dive into projects that strengthen the company's infrastructure, improve production, reduce costs, and connect with your customers.
· Will there be opportunities to expand your business by merger or acquisition?
· Who are your strongest and weakest competitors? Do you know their leaders? This is a good time to start a conversation with them, look for opportunities to collaborate. Relationships built or strengthened in a time of adversity can create a bond that lasts much longer.
· Communicate, communicate, communicate. Your people need to know that you're steering the company towards better days, not just weathering the storm.
"Imagine leading and managing as two circles in a Venn diagram. At the moment crisis strikes, the two circles largely overlap. As the event unfolds over the arc of time, the two activities move apart. The two circles are never fully separate because the present and the future are interdependent. The most effective leaders in crises ensure that someone else is managing the present well while focusing their attention on leading beyond the crisis toward a more promising future. " HBR