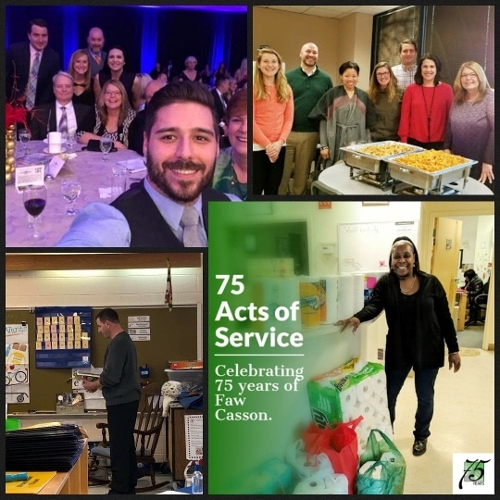 January 28, 2019
2019 marks Faw Casson's 75th year serving our clients and our community. We would like to sincerely thank each and every one of you for your continued trust in our firm.
To commemorate this anniversary our team has committed to 75 acts of service during this year.
Act 1 of 75 was for
Shepard's Place
of Dover, DE. We called to see how we could help and they said they were completely out of paper towels. We pulled together as a team and donated enough to keep them going for a while!
Act 2 of 75 was for
Junior Achievement of the Eastern Shore
. Chad (OC) volunteered his time to go in and educate a kindergarten class on some beginnings of finance at Buckingham Elementary School in Berlin, MD.
Act 3 of 75 benefitted the Fresh Start Resource Center of Smyrna, DE. Team Faw Casson participated in a boot drive, organized by the Clayton Century Club to help them replenish the footwear they hand out to those in need in the community.
5 of 75: Team Faw Casson was pleased to serve dinner to the men of Dover Interfaith Mission in January.